The Saturn Series offers the unique design combination of lines and curves. Adaptable to both a contemporary and traditional decor, this top is as beautiful as the planet from which it is named.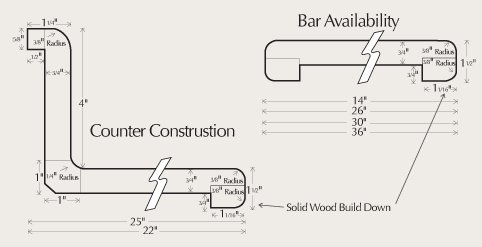 Specifications of Craftsmanship
The smooth flowing lines of this rolled-front top is wrapped 1 1/2" thick with a low 3" backsplash - all the quality of todays European style.
The cove has a 1/4" radius for easy clean-up.
The back has a 1/2" scribe to provide east fit for out-of-square or uneven walls, allowing for more installation tolerances.
Bar tops may be ripped to any width for a flat top with no backsplashes.