Just as the keystone can be the central supporting element for a larger structure, your new "Keystone" countertop can pull you kitchen together with the look of Old World natural stone.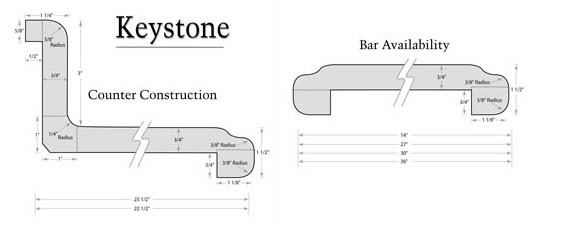 Specifications of Craftsmanship
The Old World ogee nose has the appeal that everyone seeks - the 1 1/2" thick profile with a 3" backsplash will meet your highest standard.
The deck has an overall depth of 25 1/2" on kitchens and 22 1/2" on vanities - this means easier installs.
The cove has a 1/4" radius for easy clean-up.
The backsplash has a 1/2" scribe to provide easy fit for out of square or uneven walls, allowing for more installation tolerances.
Bar tops may be ripped to any width for a flat top with no backsplash.