The Appalachain Wood Series has the refreshing accent of fine hardwoods. Providing a rich unfinished wood trim, this design enables staining and color matching for additional design options.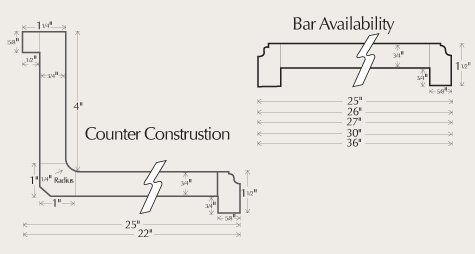 Specifications of Craftsmanship
A 5/32" Roman Ogre trims the Appalachain Wood counter top for a warm, rich accent which can be stained or painted to match any cabinet.
The cove has a 1/4" radius for easy clean-up.
Oak Veneer end caps are available, or ends may also be capped in matching laminate.
The standard nose and end cap is Appalachain Oak. Other hardwoods are available according to market.
Bar tops may be ripped to any width for a flat top with no backsplash.